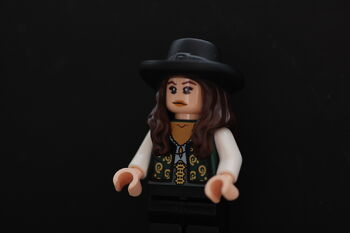 Angelica
is the daughter of the infamous pirate captain
Blackbeard
. She is a great sword fighter but could not beat
Jack Sparrow
when they dueled. She is the first mate aboard the dreaded ship
The Queen Anne's Revenge
. She once tricked Captain Jack into being a part of the crew on the ship agenst his will. Angelica and her father were seting out to find the
Fountain of Youth
and Jack knew where it was so they needed him to lead them to it. He did but when Blackbeard was killed by
Hector Barbossa
with his poison blade. She tried to save her father by pulling the sword out of his chest but ended up poisoning herself as well. Blackbeard tried to drink the water of the Fountain of Youth but Jack Sparrow tricked him into saving Angelica insted. Angelica was very mad at Jack because she wanted to save her father so Jack then took Angelica to an island and left her there a pistol with one shot. He left her there on the island in the end.
Appearance
Edit
Angelica
has long brown hair and a black hat. She has a dark green vest and black pants. She also has a two sided head one side is a stern expression and the other is a scared look. Angelica only appears in The Queen Anne's Revenge set.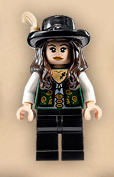 Ad blocker interference detected!
Wikia is a free-to-use site that makes money from advertising. We have a modified experience for viewers using ad blockers

Wikia is not accessible if you've made further modifications. Remove the custom ad blocker rule(s) and the page will load as expected.