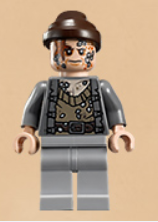 Bootstrap Bill is the father of Will Turner. He was once on Jack Sparrow's crew aboard The Black Pearl. When Hector Barbossa mentioned the plan of mutinying Jack he didn't want to but the rest of the crew did anyway. They soon straped Bootstrap to a cannon and sent him to the bottem of the sea but Davy Jones found him and he chose to join his crew. Later Jones sent him to the Pearl to give Captain Jack the black spot and tell him that he owed his life to Jones. He then met his son WIll when Will was taken aboard. Bootstrap helped him get the key to the dead man's chest from Davy Jones and helped him escape. Bootstrap Bill was also acquainted with Elizabeth Swann when she was in the brig of the Dutchman. He helped during the battle between pirates and the East India Trading Comapny. He was about to kill Will during the battle until he noticed who he was then he tried to stop Jones from killing Will. Bootstrap was soon part of Will's crew when Will was captain of the Dutchman and was his first mate.
Appearance
Edit
Bootstrap Bill has a face covered with barnicles and a starfish. He has a brown bandana and gray pants. He is only in one set witch is The Black Pearl set.
Ad blocker interference detected!
Wikia is a free-to-use site that makes money from advertising. We have a modified experience for viewers using ad blockers

Wikia is not accessible if you've made further modifications. Remove the custom ad blocker rule(s) and the page will load as expected.