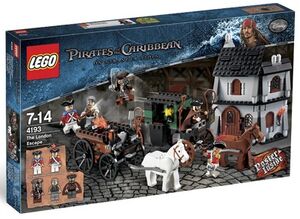 The London Escape is a scene when Captain Jack Sparrow and Joshamee Gibbs escape from London. Jack escapes by jumping from carrage to carrage while the Royal Navy soldiers are chasing after him. He then enters the Captain's Daughter Tavern where there are many bottles of run and ale. There is also a secret door in the side of the tavern.
London Escape.

Pieces

463

Minifigures

Jack Sparrow, Joshamee Gibbs, Coachdriver, Navy Admiral, Navy solder,

Cost

$30
Ad blocker interference detected!
Wikia is a free-to-use site that makes money from advertising. We have a modified experience for viewers using ad blockers

Wikia is not accessible if you've made further modifications. Remove the custom ad blocker rule(s) and the page will load as expected.